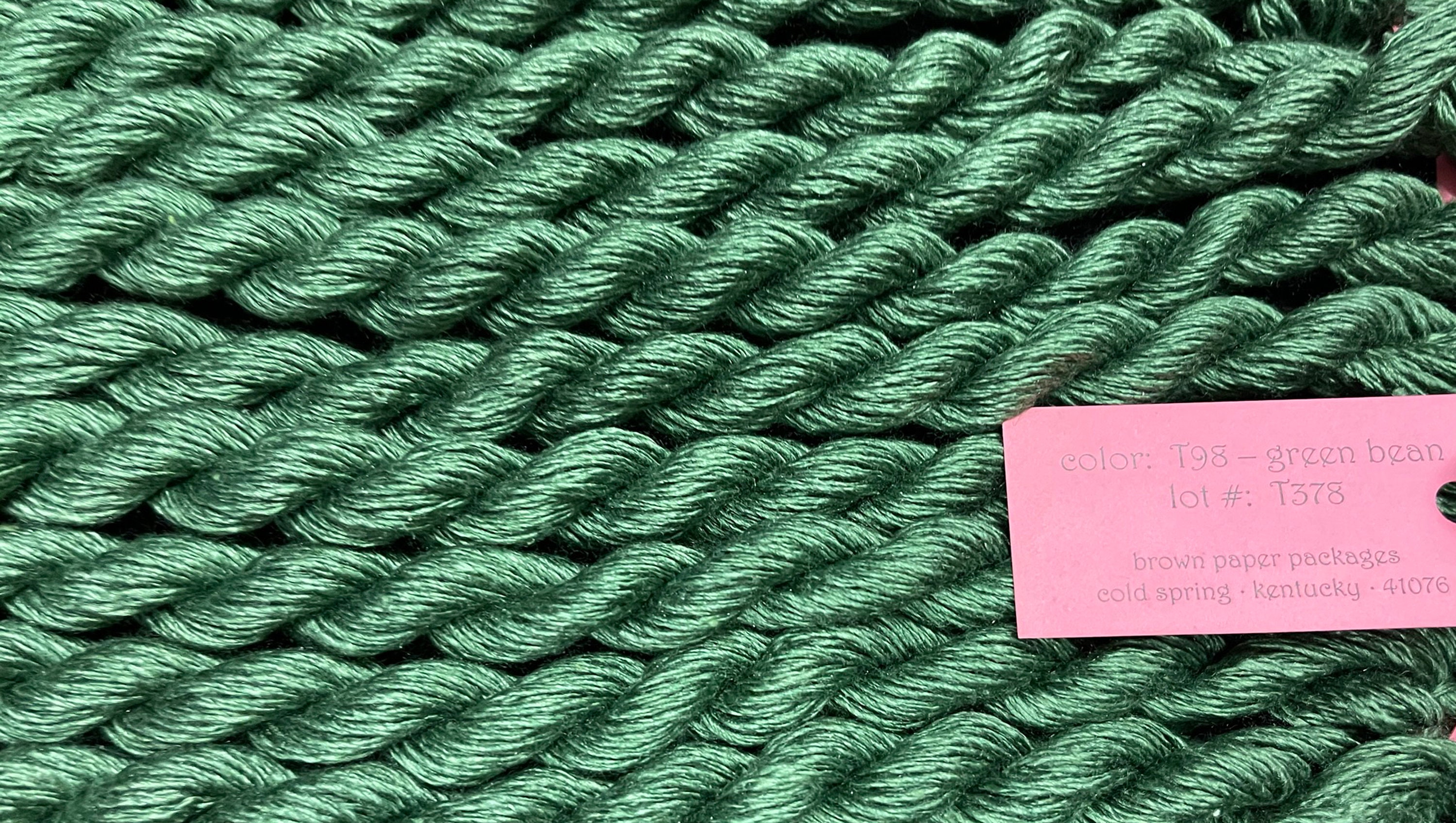 TRIO - Green Bean - T98 (by Silk & Ivory)
$6.00
Details
This product is 50% SILK & 50% WOOL, used in primarily needlepoint. Each skein contains 14.4 yds. of fiber and will work on 12-18 ct. needlepoint canvas, currently available in 244 colors.
This product is made in Switzerland.
Multiple color families are available (each family is identified by the distributor) and listed with each color. "Trio" - available in the same colors and as special order. We are stocking some here on this site. It is a 3-ply fiber with the following distributor suggestions for size usage;
1 ply on 18 ct.-20 ct.
2 ply for 12-13 ct.
3 ply for 10 ct.
One additional benefit to this product is the ability to add ply's should you feel it necessary for coverage, or adjust size depending on project, for example using 1 ply for cross stitch has become popular.
I have also sold this product to knitters and weavers. When considering this for a knitting project we can special order this in hanks, again in any color. Please check with us on timing and pricing, as due to the pandemic, this is a variable issue.
If you have any questions at all, please contact us prior to your purchase, we are not taking returns, exchanges, or offering refunds.
Ultimately, we want you to be happy, and are willing to work with you on the front end with pictures or any additional information you might need to feel confident with your purchase.
Shipping from United States
Processing time
1-2 business days
Estimated shipping times
North America : 1 - 3 business days
I'll do my best to meet these shipping estimates, but can't guarantee them. Actual delivery time will depend on the shipping method you choose.
Customs and import taxes
Buyers are responsible for any customs and import taxes that may apply. I'm not responsible for delays due to customs.
Returns & Exchanges
I gladly accept cancellations
Privacy policy
Your personal information is very important. Under no circumstances is your information stored either in an Etsy location or in any location within our business systems outside of the Etsy system. If you have any questions regarding about this, please contact us at any time, we are more than happy to assist you with any questions that you may have.
Frequently Asked Questions
Gift wrapping and packaging
Gift wrapping is not provided, however packaging notes; all orders are processed daily. To save you money our shipping method listed on Etsy is first class. We do offer priority and next day air saver with UPS. These services are available at increased shipping rates including tracking and feel free to contact us for rates which will vary based upon size of order and location of delivery. We do track all orders up to delivery, and will provide you with a tracking number at the time of shipment so that you can track your package as well. You can also contact us at any time, regarding questions you might have relating to your order or shipping.
Care instructions
All items are wrapped by color in individual bags. As we are aware that individual colors like to "play" with each other during shipment, we have learned that packaging by color individually will ensure that like colors will only "play" with like colors. As such, you may receive 10- bags if you have ordered 10 different colors. This may seem wasteful, however, this is a protective measure, to ensure your products remain safe.
Return Policy-
We would prefer not to take returns- please see the 2 reasons below-

1. with COVID-any product being returned, will not be resold, - (We are sure you want fiber that you knew was not in a COVID home...) so as of this point, any fiber that is returned, is being destroyed.
2. Allergies are also a concern,
Some can be severe, so again, fiber returned from a home with pets-cannot be resold- This may seem extreme, but a reality for many.

If you have any issue or problem with your product purchase, please contact us directly to discuss your issue, we are willing to assist in any way we can.